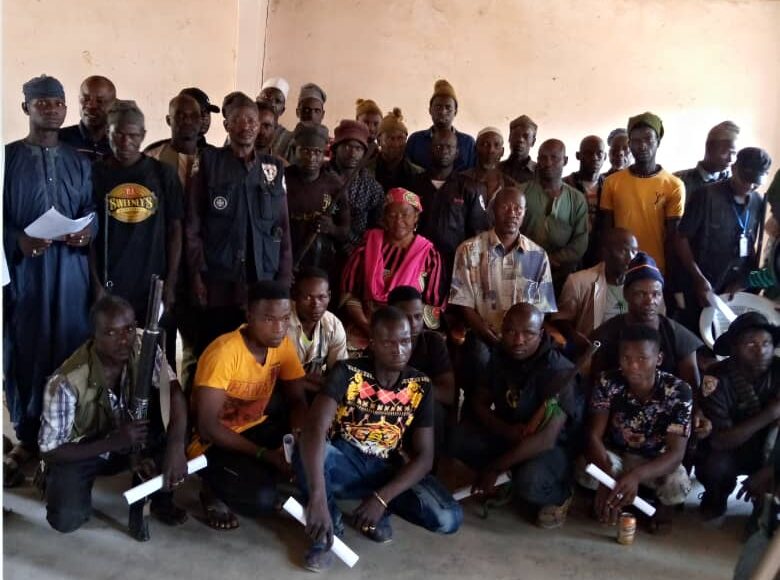 Peace and Non-Violence Workshop for Vigilante Groups in the North East of Nigeria
The Peace and non-violence workshop which took place on the 1st and 2nd of December, 2021 brought together over 100 vigilante group members from Adamawa and Borno states as part of our on-going project titled "Transforming Vigilante Groups into Peacebuilding Organizations". The aim of the workshop is to equip vigilante groups and their members in the North East of Nigeria with peace education, peer support and livelihoods training, to transform them into Peace Ambassadors, and their community based organizations and groupings into Peacebuilding organizations, to promote positive impact on the peace and prosperity of their communities.
The "Transforming Vigilante Groups into Peacebuilding Organizations" project which began in 2017 has been able to reach over 1200 Vigilante Group or Civilian Joint Task Force (cJTF) members with peace skills to support them in their everyday life as vigilantes, family and community members. All 1200 Vigilante Group members have received at least one training on peace tenets, while over 100 of them have been able to actively engage in formal Peer to Peer exchange exercises within their groups and communities. Some of them are educating their peers on the dangers of drug abuse and joining gangs. The Vigilante Group members in this project come from Adamawa and Borno States.