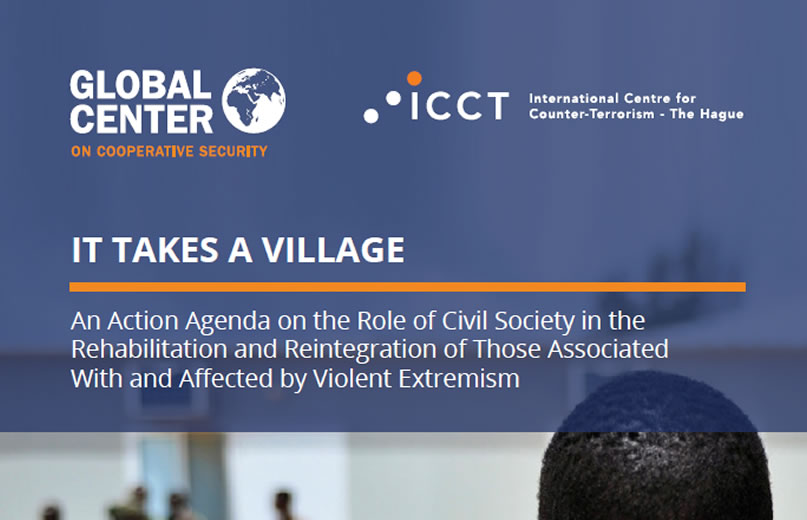 It Takes A Village: An Action Agenda On The Role Of Civil Society In The Rehabilitation And Reintegration Of Those Associated With And Affected By Violent Extremism
An Action Agenda on the Role of Civil Society in the Rehabilitation and Reintegration of Those Associated With and Affected by Violent Extremism.
ABOUT THIS REPORT
Over a period of two-and-a-half years, the Global Center on Cooperative Security and the International Centre for Counter-Terrorism – The Hague (ICCT), along with four subregional partners—the Centre for Sustainable Development and Education in Africa; Le centre des stratégies pour la sécurité du Sahel Sahara (C4S); Youth, Arts, Development & Entrepreneurship Network; and Portal Indonesia NGO—implemented a project to examine the role of civil society organizations (CSOs) in the rehabilitation and reintegration of those associated with and affected by violent extremism. The project aimed to first understand how CSOs work within their communities and with their governments to support the rehabilitation and reintegration of violent extremist offenders, victims of violence, and affected communities. It then supported the work of select CSOs by facilitating small grants to bolster existing efforts or pilot innovative approaches. The findings and lessons learned from the project have culminated in the development of this action agenda, which provides policy and programmatic recommendations for stakeholders working on rehabilitation and reintegration and the role of CSOs in supporting that process.
By Christina Nemr, Lara Nonninger, Eva Entenmann, Fulco van Deventer and Bibi van Ginkel
Download Complete RR Action Report