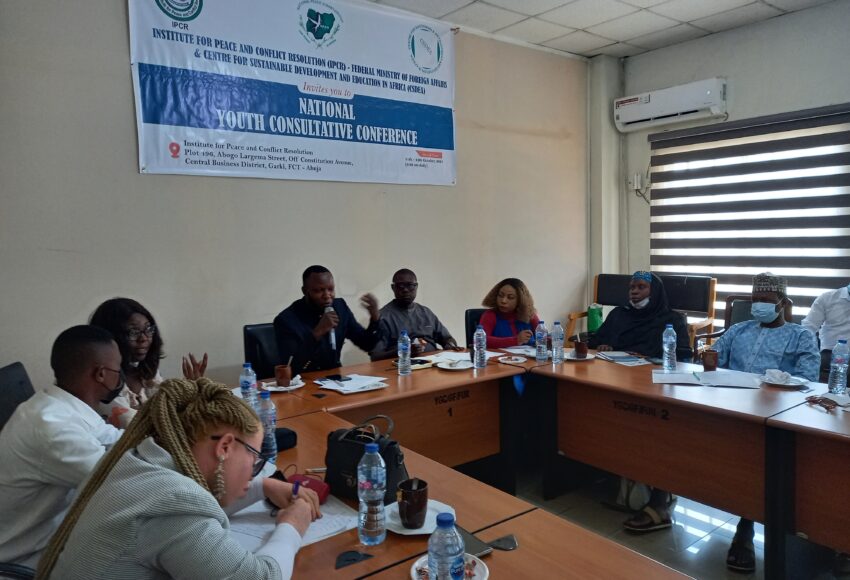 Reflecting on the National Youth Consultative Conference
The first series of the National Youth Consultative Conference (NYCC) which held in Abuja on the 12th of October 2021 was convened by the Centre for Sustainable Development and Education in Africa (CSDEA), and brought together over 40 youth delegates from across Nigeria to deliberate on the emerging issues that affect young people and proofer suggested solutions which will be incorporated into existing policy and program frameworks by the Nigerian government, civil society, international organizations and other concerned stakeholders in a bid to ensure participation, protection, prevention of conflict, partnerships and the reintegration and rehabilitation for the young people of Nigeria. The aim of the NYCC is to give an enduring platform to youth leaders to actively engage with each other to suggest solutions, support implementation, and monitor policies and programs that affect them. Another advantage of the NYCC is to serve as early warning and early response mechanism for engaging young people across the length and breadth of Nigeria.
The conference strengthened the awareness and knowledge base of youth leaders on the need for continuous and sustainable dialogue spaces to contribute to the peace, good governance and sustainable development of Nigeria. The youth delegates became aware of government policies and programs such as the Nigerian Youth Investment Fund that affect them, and how they can be beneficiaries. The youth were also able to appraise the state of Nigeria's youth as it pertains to their participation, protection, prevention of conflict, partnerships, and their reintegration and rehabilitation into society and recommend solutions to address the social, political, economic and religious issues as it affects the youth of Nigeria.
The young people recommended that government programs targeting them should be made to be youth friendly including strategies to create awareness and facilitate access for the underserved and those in the rural areas. Again, the youth recommended that police/citizens relations should be strengthened and emphasized the need for citizens to know their rights. Also, they recommended that hard work and diligence should be encouraged and that the make money quick and by all means mindset should be discouraged.
Participants at this inaugural NYCC included youth and youth groups, civil society leaders, officials of the Federal Ministry of Youth and Sports Development, the Institute for Peace and Conflict Resolution and the National Judicial Institute. The youth delegates unanimously agreed to create a network of youth leaders that can connect with other young people from across Nigeria for the purposes of continuous dialogue, subsequent follow up with relevant stakeholders, early warning and response.